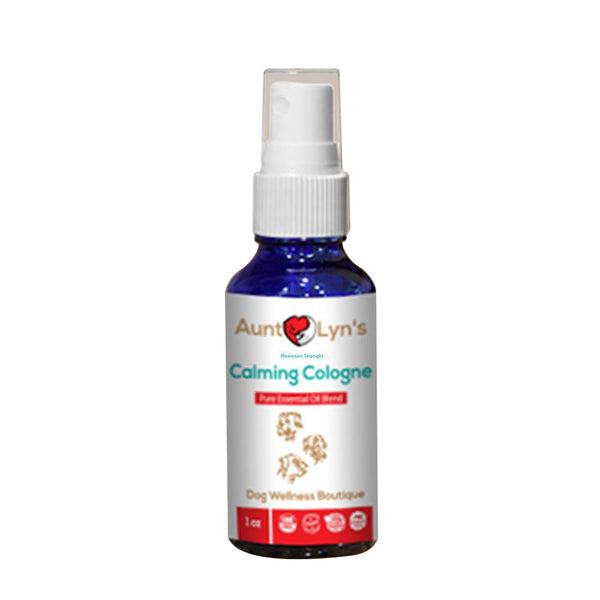 Aunt Lyn's Calming Cologne Maximum Strength
.
Many in stock
CALMING COLOGNE
Description
For those times when your dog may need extra calming or for overly anxious dogs, Aunt Lyn's Calming Cologne Maximum Strength can be sprayed on your dog's collar to help alleviate stress and anxiety. It's unique blend of essential oils create an aroma that helps maintain balance and smells great, too.  Good to use when going to the vet or groomer, and especially after surgery when your dog needs to be less active.
CALMING COLOGNE is a proprietary blend of the finest organic essential oils. Our formulation contains an organic blend of Lavender and Chamomile with an added boost of Bulgarian Lavender Oil.
We also use the finest carrier oils chosen to blend the essential oils to the proper ratio. Our Maximum Strength CALMING COLOGNE, uses one or more of the following: Pure Coconut Oil, Cold Pressed Virgin Olive Oil, Mineral Oil, and Evening Primrose Oil.
Essential oils – once known as aromatic oils – have been used for herbal and botanical medicines and remedies for thousands of years by many cultures around the world. The earliest evidence of essential oil usage dates back to 3000 to 2500 BC. It can easily be argued that the knowledge gained by studying the effects of essential oils on health formed the basis of pharmaceuticals.
For additional information on the properties of select essential oils, please visit: Aunt Lyn's Essential Oil Library
Why It was Developed
Use CALMING COLOGNE – Maximum Strength for those dogs that are ordinarily nervous and high stressed even under normal circumstances such as some rescues and specific breeds. This proprietary blend of various strains of lavender from around the world and chamomile are some of the unique ingredients that make Aunt Lyn's CALMING COLOGNE both effective and drug free.
Aunt Lyn realized that there are times when even the most well balance canine needs help with situations that cause anxiety – a vet visit, a large gathering in your home, home remodeling, recovering from surgery and the dozens of other situations where your dog finds it difficult to relax. As a result, she developed the CALMING COLOGNE line in both Regular and Maximum Strength.
Aunt Lyn's CALMING COLOGNE is made from 100% pure organic essential oils. It helps keep dogs and pups relaxed calm and relieves anxiety, naturally, gently and without harsh chemicals.
Remember: 
CALMING COLOGNE comes in 2 strengths:
Regular Strength for relaxing a mildly stressed dog, and
Maximum Strength for dogs that are normally anxious or easily stressed or those that have severe reactions to new situations or noises.
Suggested Uses and Tips
For those times when your companion is adogthat is ordinarily nervous and high stressed even under normal circumstances such as some rescues and specific breeds.
Application
Apply 1 to 3 spritzes of CALMING COLOGNE to your dog's collar or bedding.
Tips
Have your dog sniff a favorite blanket after you've applied the CALMING COLOGNE to the item. 
CALMING COLOGNE may take up to 30 minutes to reach peak effectiveness – plan accordingly.
When using for the first time, start slow with 1 spritz and use more as needed. Always wait 5 to 15 minutes to see if it appears to be working.
Shake well before each use.
Topical use only – not to be given internally
Ingredients
Proprietary Blends -
Essential Oils
Contains 4ml per bottle
Listed in order of quantity:
Special Organic Bulgarian Lavender Oil, Special Organic Chamomile and Lavender Blend
Carrier Oils
Contains 26ml per bottle
Using one or more of the following:
Pure Coconut Oil, Mineral Oil, Evening Prim Rose Oil
Safety / Precautions
As with all medications, supplements, holistic, or pharmaceuticals, check with your physician/veterinarian first before administering.
When using any product containing essential oils topically always test on a small area, and/or with a small amount first. 
These statements have not been evaluated by the Food and Drug Administration. These products are not intended to diagnose, treat, cure or prevent any disease.
Always discontinue use if the problem you're treating persists or gets worse and immediately consult a physician/veterinarian.
Keep out of reach of children and pets. Cats especially should not come in direct contact with products containing essential oils.
Make sure to wash your hands after touching any product containing essential oils. Be especially careful not to rub your eyes or your pet's eyes or handle contact lenses prior to washing.
Consult with a health care profession before using any product containing essential oils if you are pregnant or nursing.
Do not use water to dilute any product containing essential oils. Should you spill an Aunt Lyn's Wellness product apply vegetable oil to a cotton ball, tissue or handkerchief and gently wipe to dilute and remove the spill.
Store in a cool place out of the direct sunlight. Heat and light can cause rapid oxidation and not only spoil the beneficial properties of the oil, but can cause skin irritations and allergic reactions if used.
Tip: If an essential oil ever gets into your mouth or eye - immediately flush with cold milk or vegetable oil to dilute. Do not use water. If stinging persists, seek medical attention.
See Wellness Product Safety for additional information.
Reviews