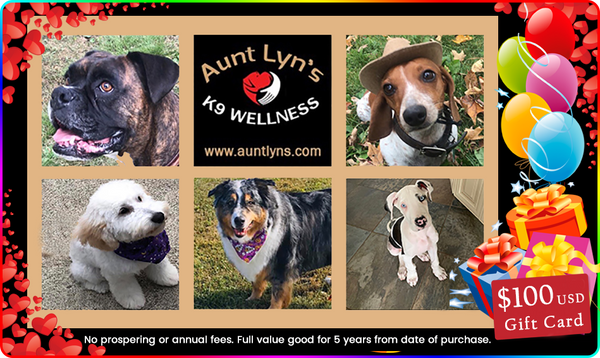 Looking for a gift for dog lover in your life but not sure what to give them? 
Aunt Lyn's has holistic ; Remedies & Preventives, Bathing-Quick Wipe & Cleaning products, Tasty Nutritious Food Toppers, Training Gear. and a new People & Pup product line...
Need a unique but thoughtful gift for the wellness -conscience person in your life who has everything?
You wont find Aunt Lyn's holistic essential oil based blends - anywhere else .
Maybe you're a few dollars away from qualifying for free shipping...purchase a gift card to help you qualify and you get to use it later!
*No additional processing fees~ No yearly deductions off the face value~
**Expiration: 5 years from date of purchase
Reviews