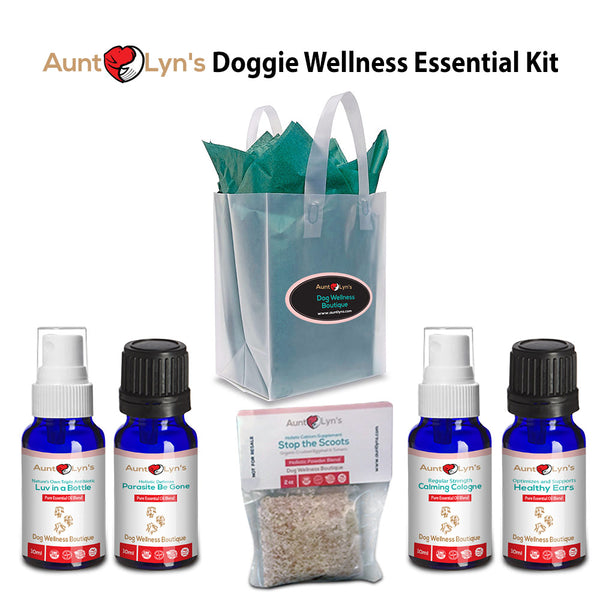 Aunt Lyn's Doggie Wellness Essential Kit
Many in stock
GIFT AND BOX SETS
Description
The best and most needed products to keep your dog healthy and happy are now included in one convenient sampler package. Each sample size bottle or package, within the kit, provides ample use for  several applications.  Each product in Aunt Lyn's Doggie Wellness Essentials Kit provides all natural remedies and preventative care for those unexpected events that happen to your dog from time to time. Our Essential Kit is a medicine cabinet must-have for all dog owners, makes a great gift and convenient way to sample our products.
Luv in a Bottle (10ml)
Healthy Ears (10ml)
Relieve the Itch (10ml)
Parasite Be Gone (10ml)
Stop the Scoots (2oz)
Includes 2 fine mist spray top nozzles, childproof safety caps - and a 20% off coupon to use towards your future Wellness Oil purchase. The 10ml size is generous enough for large dogs or for multiple applications on small dogs. Products are concentrated for effective use, yet gentle enough to use daily to prevent mishaps. And knowing they are all natural gives you peace of mind that your dog is being well taken care of. Comes in an attractive gift bag with tissue and product hangtag.
Aunt Lyn's Doggie Wellness Essentials Kit is ideal for your home or as a gift for the dogs and dog lovers you know and love! $45.00
Content
Aunt Lyn's Luv in a Bottle
The cornerstone of our Essential Oil Wellness line. Early on, Aunt Lyn noticed that pet parents were using double and triple antibiotic human ointments because they were handy and didn't require a trip to the vet. While this may sometimes work, it isn't always a good idea to use human medications on animals. Also, the overuse of antibiotics can result in bacteria becoming more resistant to medication. Yes, there are pet antiseptic products for dogs on the market, but most of them sting and are made with non-natural ingredients. If there were non-stinging, over the counter, children's antiseptics, why couldn't a non-stinging product, over the counter product be made from natural ingredients, for our dogs?  And THAT is how the idea of developing Aunt Lyn's Luv in a Bottle began and subsequently, the Aunt Lyn's Wellness Line was created.
Container: 10 ml Bottle, includes both Dropper and Spray Top
How to Use:
For Minor Cuts, Scratches, Abrasions and Skin Irritations:
Clean affected area with warm water and mild cleanser.
Apply 2 - 3 drops of Aunt Lyn's LUV IN A BOTTLEto the affected area.
Gently pat or rub in.
Apply 2 - 3 times a day
Should the wound get worse and/or does not heal in a few days please consult a veterinarian.
To Maintain Optimum Health and Support a Healthy Immune System:
Use whenever you feel your dog's immune system is lower than normal, especially in cases when he or she is recovering from an injury. Give 3 drops orally, 2 times a day, for 3-5 days. If the dog is not recovering, please consult a veterinarian.
For Gum Irritation
Rub a ⅓ tsp. gently but liberally onto the affected area to numb the pain and reduce inflammation - until you get your dog to a veterinarian to diagnose and treat.
Aunt Lyn's Relieve the Itch
A holistic canine anti-histamine solution used to "relieve the itch" that comes from skin allergies, irritations or insect bites.  This proprietary product works in three ways.  Topically, it deters your dog from licking, gnawing or scratching the affected area. This unique essential oil blend also helps aid in the healing process.  Lastly, it can be given orally to help combat the symptoms internally and counters the affects these allergens have on your dog's immune system.
Container: 10 ml Bottle, includes a Spray Top
To Apply:
Based on your dog's weight, give the dosage described below:
DOG'S WEIGHT                  DOSAGE
Pounds                           # of Drops
5 – 10                                   1 drop
11 -  50                          2-3 drops
51 - 100                         3-6 drops
After one week of use stop administering the drops for a minimum of 4 days to allow your dog's own immune system to respond. Then repeat the cycle of 7 days on, 4 days off as necessary throughout the allergy season.
For Topical Itch Relief:
Spray on 1 to 3 spritzes or up to 5 drops and massage onto the area causing your dog's itchiness or irritation. Signs can include licking, gnawing or scratching on one or more areas on his or her coat. For example, if the affected area is your dog's paws, apply up to 5 drops between the toes and on the pads and massage in. Repeat daily morning and evening. If the condition does not improve or worsens after a week, please consult a veterinarian.
Aunt Lyn's Healthy Ears
Made especially for dog's tender ears, this product is a dual-purpose essential oil blend to be given when irritation and other bothersome issues develop in your dog's ears, such as mites or infection.  This product can also be given weekly as a preventative measure to keep the ears in optimal health.
Container: 10 ml Bottle, includes a Dropper
To Maintain Ear Health
Lightly clean the ear and place 3 drops of HEALTHY EARS weekly into the ear canal and massage as described below. Some dogs may need less or more frequent applications.
In Cases Where Ear Irritations Exist
Clean ear gently with mineral oil or warm water. Apply 3 drops, twice daily, into the entrance of the ear canal.  Tilt the dog's head while you massage the dog's outer ear so oil moves down the ear canal.  If there is no improvement after a few days, please consult a veterinarian.
Aunt Lyn's Parasite Be Gone
An effective, yet gentle essential oil blend specifically formulated to help prevent and/or remedy harmful parasites that can grow undetected in your dog and cause damage.  These parasites can be picked up from standing water, lakes, ponds and/or places wild animals frequent. Aunt Lyn's Parasite Be Gone can also help prevent coccidia and giardia.
Container: 10 ml Bottle, includes Dropper
To Maintain Optimum Health:
Based on your dog's weight, give the dosage described below orally, with food, for 7 days straight, 1 week each month:
DOG'S WEIGHT                    DOSAGE
Pounds                         # of Drops
5 – 10                               1 drop
11 -  50                        2 - 3 drops
51 - 100                       3 - 6 drops
Tip:
Try placing the drops on a small piece of bread, then fold over.
In Cases Where Parasites Are Suspected:
Give the dosage directed above, daily for one month, then bring a stool sample to your veterinarian to be tested.
Aunt Lyn's Stop the Scoots
Made from Organic Eggshell with added Turmeric to help absorption and boost the immune system. This dynamic duo prevents compacted anal sacs, commonly caused from kibble diets, while providing an additional source of calcium essential for healthy dogs.
Container: Waterproof 3ml 4 x 6 gusseted outer bag, that can stand on its own allowing for easy dispensing or to use as an application tool.
Aunt Lyn's Stop the Scoots powder is in its own 3ml water re-sealable zip lock bag
Maintenance of Healthy Anal Glands and as a Calcium supplement:
Dogs 50 pounds and under: 1/2- 1 level teaspoon a day sprinkled on meals
Dogs over 50 pounds: 1 – 2 level teaspoons a day sprinkled on meals
For Anal Sac Issues:
Dogs 50 pounds and under: 1-2 level teaspoons a day for 5 days
Dogs 50 pounds and over: 2-4 level teaspoons a day for 5 days
This is a Condensed Quick Instruction Sheet but it is recommended you visit the product page of each product for full Suggested Uses and Tips
THE STORY
Nature provides much of what our dogs need to supplement their diet, stay balanced, be protected from parasites, and fleas, and ward off or recover from common illness.
Nature provides these things in the form of plant oils and herbs. The problem is that over time our habitat has been changed and reduced. Pet owners who livein cities, urban, and even suburban area, have no access to the countryside and an abundance of nature.
Yes, nature provides, but sometimes it needs a little help. Aunt Lyn's Wellness line was created to help ensure that our beloved doggies are getting the nutrients and medicinal benefits plants, herbs and essential oils have provided for thousands of years.
Aunt Lyn's Welcome Doggie Sampler was created for three reasons:
our clients asked for a sampler selection to give as gifts to new dog owners,
it'sa way for new clients to try five of our products at a reduced cost, and
the sampler introduces and promote holistic preventives and remedies as a way to keep your dog in optimum health.
It is a perfect Gift of Love to your pup or a pay-it-forward to gift to another dog parent and dog.
Please remember to leave a review and upload a picture of your dog once you have tried our products. In this way we can all share your experience and the virtual heart smiles. Plus, you receive $3 off your next wellness oil purchase for each picture review given.
Reviews